Japanese musician, songwriter, composer, and record producer Yoshiki will be embarking on a classical music tour this fall. In celebration of his tenth year anniversary of his album Yoshiki Classical, the tour will take the artist to historic venues such as Carnegie Hall and Dolby Theatre in the U.S. Titled in honor of his late mother, The Requiem tour will make stops in Tokyo, London, Los Angeles, and New York. Along with his tour announcement, Yoshiki shared that he will be releasing new music this July.
Growing up in a family of musicians, Yoshiki's interest in music began at the age of four, when he started taking piano and music theory lessons. Picking up more instruments by his elementary school years, he also began to play trumpet, drums, and guitar, finding inspiration from Western rock bands such as Led Zeppelin, Iron Maiden, and Queen. In 1977, Yoshiki made his debut, along with childhood friend Toshi, as part of group Dynamite, which shortly after was renamed as Noise. In 1982, the two rebranded again as X (now known as X Japan). A few years later, Yoshiki founded his own independent record label Extasy Records, specifically to release their own music. The band won several awards and accolades, became a million-selling artist, and became the first Japanese metal band to perform at the famed Tokyo Dome. In the early 1990s, Yoshiki began to pursue his solo ventures, releasing his first solo classical album, Eternal Melody, in 1993.
At the end of 1997, X Japan announced their disbandment with Toshi's departure, and Yoshiki began to focus more on producing music and expanding his record label. In the early 2000s to 2010s, the rockstar continued working hard, collaborating with various artists such as Nicole Scherzinger, helping produce songs for bands like The TRAX, and even creating soundtracks for films such as
Catacombs
and musicals such as
Repo! The Genetic Opera
. In 2012, he composed the theme song for the 69th Golden Globe Awards, and in 2014, he embarked on his first solo classical world tour. In the late 2010s, Yoshiki reunited with X Japan for several concerts and released the song "Red Swan" in collaboration with Hyde, yet another Japanese rock legend, for the third season of anime
Attack on Titan
. In November 2022, Yoshiki announced a new Japanese rock supergroup, The Last Rockstars, which features members Yoshiki, Hyde, Miyavi, and Sugizo. They performed a sold out U.S. tour in January 2023, with the tour's
final show
in Los Angeles.
The newly announced Requiem tour will feature performances of compositions by Yoshiki and other classical artists and classical renditions of rock songs originally by X Japan, The Last Rockstars, and Yoshiki. Additionally, special guest artists joining the tour will be announced at a later date. A few months before the tour begins, Yoshiki will release his new classical piece, "Requiem," on July 21st. The song was inspired by his late mother, and it was described as a piece that holds his emotions, thoughts, and tears in the composition. The musician also shared that making the song helped him find his way out of a slump induced by his mother's passing. As another grand gift for his fans, just a week after the release of "Requiem," Yoshiki will also release another song, but with X Japan. "Angel" marks the first single from the band in eight years, and will be released officially on July 28th.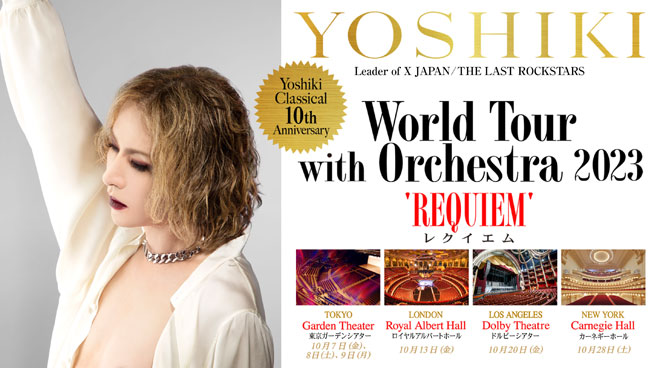 Requiem Tour Dates and Venues
October 7 – 9 — Tokyo, Japan — Tokyo Garden Theater
October 13 — London, England — Royal Albert Hall
October 20 — Los Angeles, CA, USA — Dolby Theatre
October 28 — New York, NY, USA — Carnegie Hall