This year Filipino boy band SB19 will be embarking on their second U.S. tour. Starting in the Philippines, the PAGTATAG! world tour will move stateside mid-July to end in early August. Starting in Chicago, the boy group will head west to Los Angeles, then move back east to finish off in Washington D.C. before heading north for a Canadian tour.
SB19 trained under South Korean company ShowBT Group's subsidiary, ShowBT Philippines, and they have made waves as the first Southeast Asian group to achieve many of their accomplishments. The group is the first Filipino and Southeast Asian act to earn the Top Social Artist nomination at the Billboard Music Awards, and they are the first Southeast Asian group to climb up to the top 10 of Billboard's weekly and year-end Social 50 charts. Pre-debut, the group underwent the infamous South Korean trainee program, and selected members Josh, Pablo, Stell, Ken, and Justin debuted with a ballad, "Tilaluha," in October 2018. Yet despite their best efforts, it wasn't until the second half of 2019 that the group really gained public attention. In July 2019, the group released their second single, "Go Up," naming it their last chance song, as they needed to see results with this release to continue forward. After a fan posted their song and dance practice video on Facebook and Twitter, the group quickly went viral, being invited to various radio programs and tv shows in and out of the Philippines. In December of that year, the group went on their first domestic tour.
In 2021, the group was nominated for Best Southeast Asia Act at the MTV Europe Music Awards in October, entered the Billboard Hot Trending Songs chart in November, and was appointed as the new Youth and Sentro Rizal ambassador for the Philippines in December. 2022 brought about the group's first world tour, which began in their home country in September, before moving to Singapore, the UAE, and the U.S. In September of that same year, the group released their single, "WYAT (Where You At)." This single debuted at number 17 on Billboard's Hot Trending Songs chart, but quickly moved up to number four on the chart. Their upcoming single will be released on May 19th, and their full
PAGTATAG!
EP will be released on June 9th.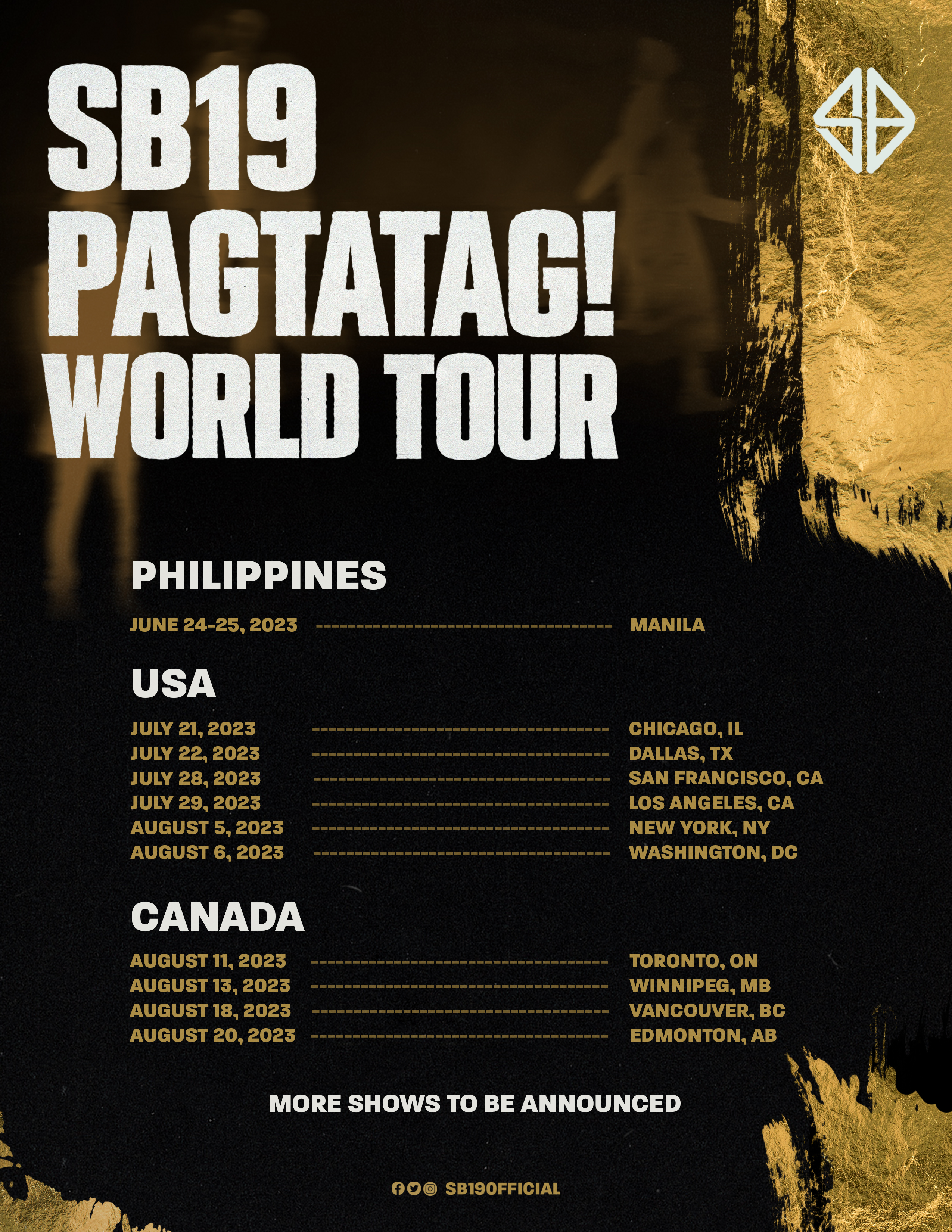 2023 U.S. Tour Cities
Jul. 21 — Chicago, IL — TBA
Jul. 22 — Dallas, TX — TBA
Jul. 28 — San Francisco, CA — TBA
Jul. 29 — Los Angeles, CA — City National Grove of Anaheim
Aug. 5 — New York, NY — Webster Hall
Aug. 6 — Washington D.C. — TBA