Chinese American singer Tiffany Day is heading on tour this March. Hitting 17 cities in the U.S. and two in Canada, the young performer will start off The Gratitude Tour in San Diego, move east to New York, and loop back around west to finish off in Los Angeles.
Having always harbored a passion for music, it wasn't until March 2017 that
Tiffany
decided to actually pursue it as a career, when 
a video of her singing into a well in Italy
went viral online. After that, the then-teenager made a deal with her parents to enroll in university in LA in order to move away from Wichita, Kansas to fully chase her dreams. Since then, she has released several EPs, including
The Recovery Project
and
The Dependency Project,
inspired by her years attending university.
Tiffany
's most recent EP,
The Gratitude Project,
was released just last month, with the title track "San Francisco Sidewalk" having released in August 2022.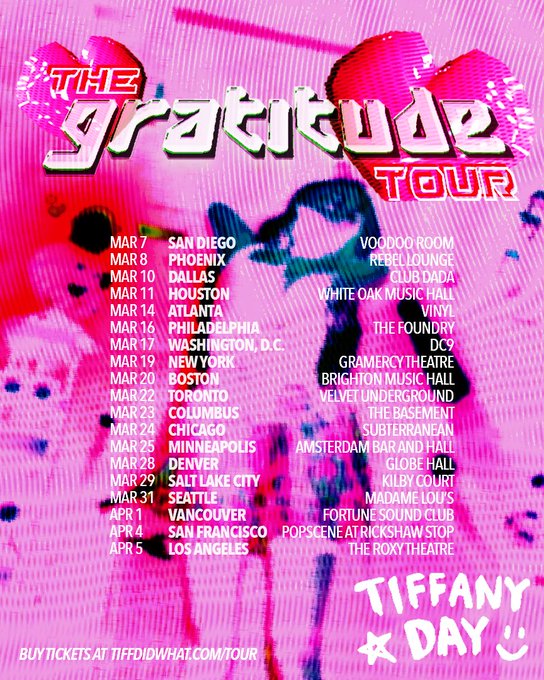 'The Gratitude Tour' North America Dates
Mar. 7 — San Diego, CA — Voodoo Room
Mar. 8 — Phoenix, AZ — Rebel Lounge
Mar. 10 — Dallas, TX — Club Dada
Mar. 11 — Houston, TX — White Oak Music Hall
Mar. 14 — Atlanta, GA — Vinyl
Mar. 16 — Philadelphia, PA — The Foundry
Mar. 17 — Washington D.C. — DC9
Mar. 19 — New York, NY — Grmacery Theatre
Mar. 20 — Boston, MA — Brighton Music Hall
Mar. 22 — Toronto, Canada — Velvet Underground
Mar. 23 — Columbus, OH — The Basement
Mar. 24 — Chicago, IL — Subterranean
Mar. 25 — Minneapolis, MN — Amsterdam Bar and Hall
Mar. 28 — Denver, CO — Globe Hall
Mar. 29 — Salt Lake City, UT — Kilby Court
Mar. 31 — Seattle, WA — Madame Lou's
Apr. 1 — Vancouver, Canada — Fortune Sound Club
Apr. 4 — San Francisco, CA — Popscene at Rickshaw Stop
Apr. 5 — Los Angeles, CA — The Roxy Theatre