Korean rapper Sik-K will be stopping by 17 cities in the U.S. and Canada for his North American tour, Pop a Lot. Originally under H1ghr Music and now with CDNZA, the talented rapper turned heads with his appearance on "Show Me the Money 4" in 2015. Since then, he's dropped numerous releases and collaborated with some of the biggest artists in the industry such as ZICO, Jay Park, Wheein, Jeong Sewoon, and many more. This 2023 tour will mark his first in four years since the 2019 FL1P world tour.
To celebrate Sik-K's Pop A Lot tour, Asia Pacific Arts is hosting a giveaway on Twitter and Instagram for two lucky winners to each receive one (1) pair of General Admission tickets to the artist's San Francisco concert on March 2nd! One winner will be selected via Twitter and the other via Instagram. Enter both giveaways to increase your chances of winning!
To enter the Twitter giveaway:
Follow APA on Twitter: @AsiaPacificArts
2. Retweet the pinned giveaway tweet
3. Bonus entry: Tag a friend for additional entries. Each comment with a tagged friend is one extra entry.
To enter the Instagram giveaway:
Follow APA on Instagram:@AsiaPacificArts
2. Comment on the pinned giveaway post and tag a friend (1 comment max)
3. Bonus entry: Share this post on your story and tag us (1 share max)
This giveaway event will run from February 13 to 24, 2023. The giveaway closes at 5:00pm PT on February 24, 2023, and the winners will be contacted shortly after. Good luck!
Ticket information is available here.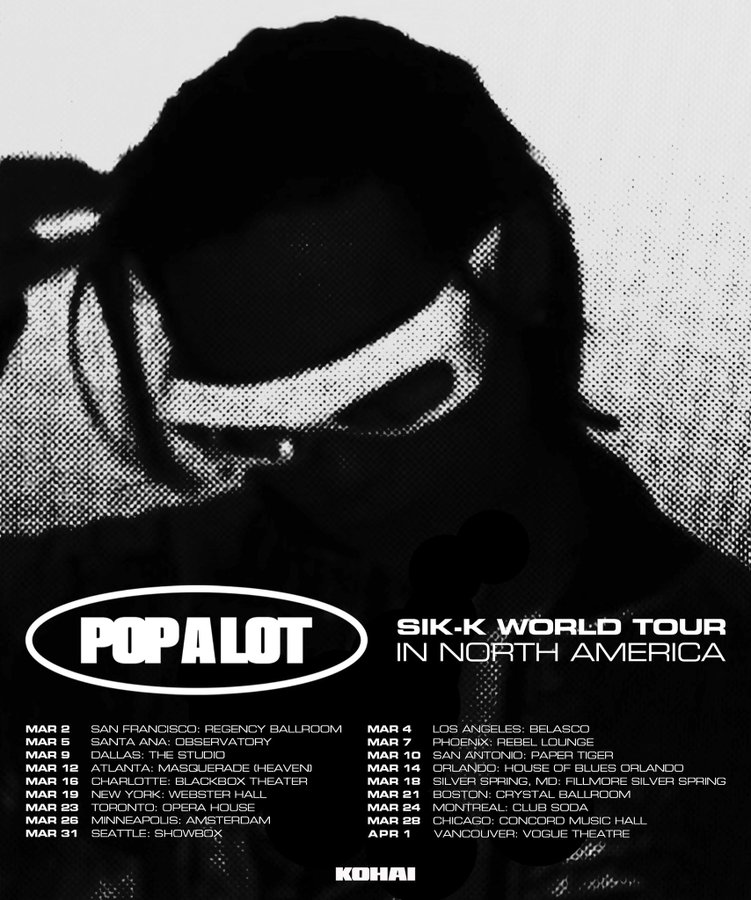 POP A LOT – World Tour in North America
San Francisco – March 2
Los Angeles – March 4
Santa Ana – March 5
Phoenix – March 7
Dallas – March 9
San Antonia – March 10
Atlanta – March 12
Charlotte – March 16
Silver Spring – March 18
New York – March 19
Boston – March 21
Toronto – March 23
Montreal – March 24
Minneapolis – March 26
Chicago – March 28
Seattle – March 31
Vancouver – April 1