Disney's highly anticipated biennial event returned to a long line of Disney, Marvel, and Lucasfilm fans, excited for announcements, performances, and sneak peaks. The last D23 Expo took place in 2019 and was set to return in 2021, only for ongoing COVID-19 regulations to push the event one year out. D23 Expo is also hosted at Tokyo Disney Resort, but the event is held less regularly than the one in Anaheim, California.
During years when D23 Expo takes place, The Walt Disney Corporation holds back most of its franchise announcements from any other major pop culture event—such as San Diego Comic Con—in favor of giving the lucky global attendees at D23 the chance to hear all of them first. Similar to Star Wars Celebration, which was held in Anaheim rather than Celebration in Florida this year, D23 Expo provides fans with opportunities to buy exclusive consumer products from all of its major brands. Due to their acquisitions, National Geographic and James Cameron's Avatar were also featured as a part of the event.
Unlike other years, much of the show floor for D23 Expo 2022 felt closer to an event photo opportunity rather a mini extension of the Disney Parks experience. Most likely the limited space and safety protocols prevented the usual marching bands or street parade-like performances to take place. For those who couldn't attend the event, much of the panels were streamed online, except for the Studio Showcases. According to The New York Times, an estimated 140,000 people came to the Anaheim Convention Center in hopes of spotting celebrities and influencers, or purchasing highly coveted limited edition goods.
Although there was no news on Disney's Twisted Wonderland during the Games Showcase, Aniplex USA hosted a booth in the convention hall. At that space, attendees received paper fans and free mini prints of an exclusive sketch by Yana Toboso. Along with a picture opportunity with Grim, participants were also sorted into a Night Raven College dorm by the magic mirror. Hopefully more news of the upcoming anime will be released soon.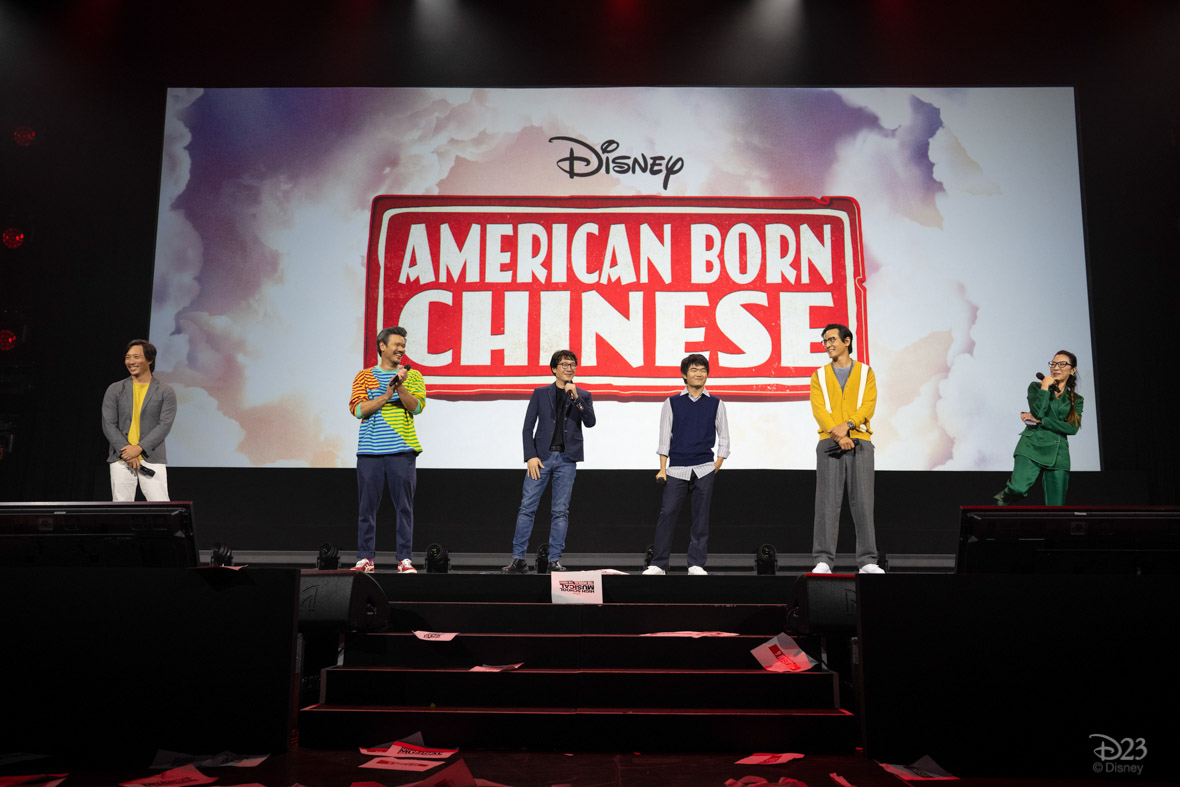 ©Disney
From the Hall 23 series showcases, Disney Branded TV revealed its adaptation of Gene Luen Yang's American Born Chinese. As this date coincided with Mid-Autumn Festival, an impressive dragon dance routine followed by a hip hop dance crew warmed up the crowd for the reveal of the attending cast members. Kelvin Yu, Destin Daniel Cretton, Ke Huy Quan, Ben Wang, Daniel Wu, and Michelle Yeoh spoke about their roles and teased the story behind the upcoming series. The show will be an exciting introduction for a new generation to learn more about Yang's graphic novel and its mythical characters, like the Monkey King, loosely based on Journey to the West.
Other exciting news from the convention floor included the transformation of Disneyland California's Pacific Wharf, which is set to become
Big Hero 6
's San Fransokyo. There, fans will be able to meet Baymax and explore new spots to eat and shop. Shanghai Disney Resort will also bring the imagined world of
Zootopia
to life, where guests can explore the Zootopia Central Station and Police Department. The "World of Dreams" exhibit gave a model sized preview of what guests can expect for these park additions.
Before heading out, guests were encouraged to check out the Disney 100 Years of Wonder exhibition, which hosts a variety of items from the Disney Archives. While celebrating the company's centennial anniversary, Disney opened a window into its past while it closes the book on its first hundred years. D23 Expo gave fans around the world a taste of what to expect for the company's next phase.