For the first time since her debut, Yerin Baek will be heading to North America for a month-long tour. Starting off in Atlanta, the soloist will make her way across the continent to finish in Seattle.
Yerin first came into the spotlight in 2007 after participating on popular Korean variety show Star King, where she performed a rendition of Beyonce's "Listen" that blew viewers away. Shortly after, the singer joined JYP Entertainment, and in 2012, she debuted in duo 15& along with Park Jimin (now known as Jamie). The two quickly became known for their powerhouse vocals and smooth harmonies, but unfortunately, they disbanded in 2015. Later that same year, Yerin released her first solo EP Frank with title track "Across the Universe," which was inspired by the film, The Martian. She then went on to release her second mini-album, Our Love is Great, in March 2019. Its title track "Maybe It's Not Our Fault" quickly rose to the top of all Korean real-time charts, and Yerin won three awards for the album at the Korean Music Awards.
In November 2019, the soloist established her own music label, Blue Vinyl. Since then, she's released several more albums and singles, achieving an all-kill on the Korean charts with her single "Square," the first English language song to ever achieve this feat, and winning several awards during year end ceremonies, including Best R&B/Soul and Best Pop Album. At the end of 2020, she released her second studio album, tellusaboutyourself, which was accompanied by five music videos. In 2021, Yerin released a remix EP, a self-titled debut album with her band The Volunteers, and a cover album, Love, Yerin. Most recently, she released the digital single "Pisces" in May of this year.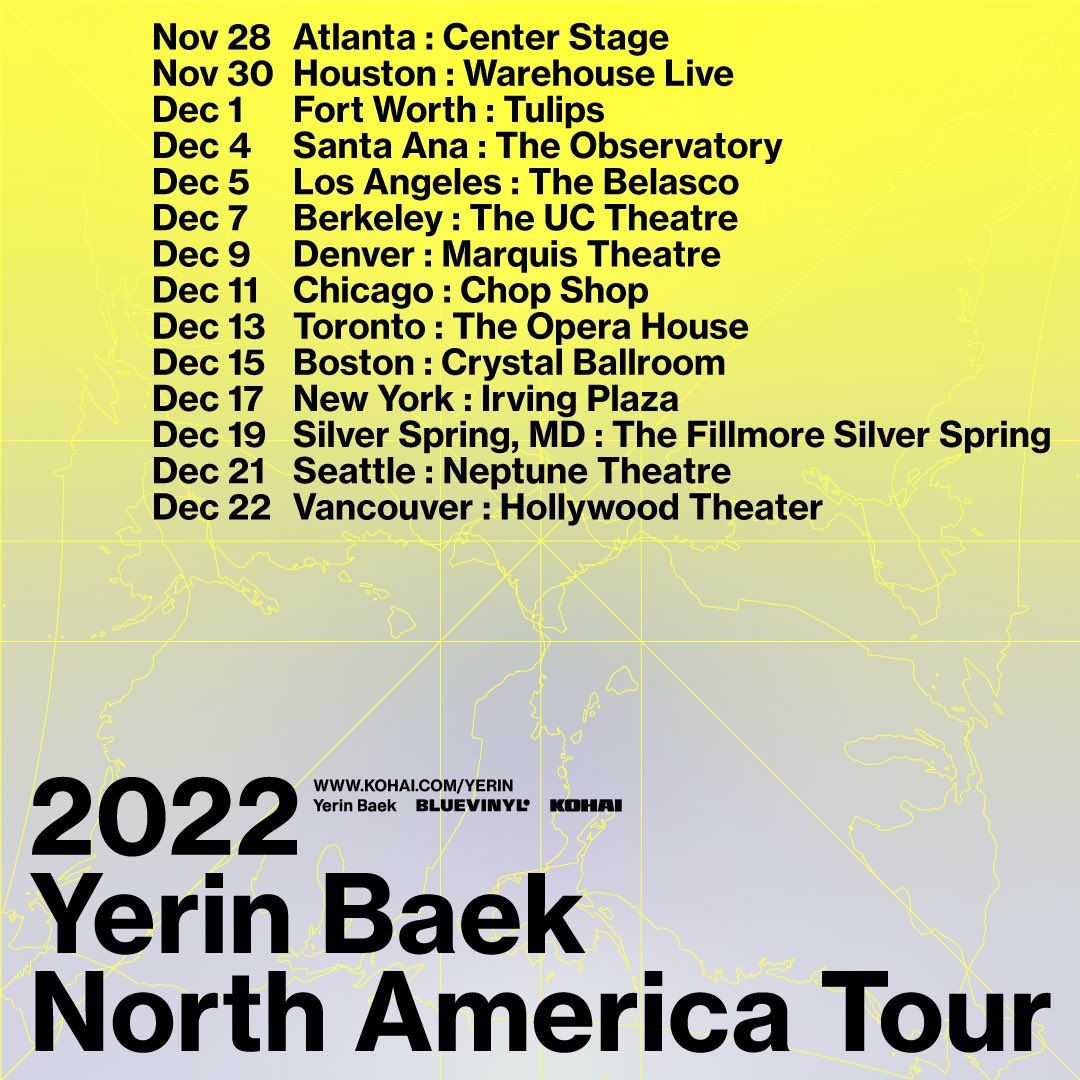 2022 Tour Dates:
Nov. 28 — Atlanta, GA — Center Stage
Nov. 30 — Houston, TX — Warehouse Live
Dec. 1 — Fort Worth, TX — Tulips
Dec. 4 — Santa Ana, CA — The Observatory
Dec. 5 — Los Angeles, CA — The Belasco
Dec. 7 — Berkeley, CA — The UC Theatre
Dec. 9 — Denver, CO — Marquis Theatre
Dec. 11 — Chicago, IL — Chop Shop
Dec. 13 — Toronto — The Opera House
Dec. 15 — Boston, MA — Crystal Ballroom
Dec. 17 — New York, NY — Irving Plaza
Dec. 19 — Silver Spring, MD — The Fillmore Silver Spring
Dec. 21 — Seattle, WA — Neptune Theatre
Dec. 22 — Vancouver — Hollywood Theater